How to Choose the Best Business Cards for Your Small Business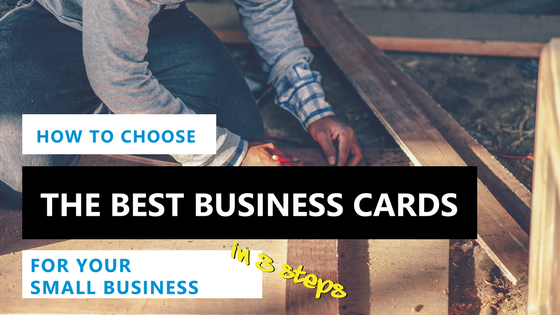 Business cards are an "at a glance" display of your skills. In today's fast paced society of lightening speeds, people typically don't want to read a novel to figure out what you do . . . right? This is why choosing the best type of card material and design to represent your business is key. We did some thinking and we came up with 3 steps that'll help you to create the perfect business cards for your small business.
Step 1: The Design
---
First things first. Your design has to be great. Choose legible fonts and branded colors. Our best advice is to create a custom design to go along with your branding. You should really distinguish yourself from the masses. This could be your first introduction to a new customer. And they need to know that you are a step up from your competitors. If you stop by the shop, then a custom design comes along with your package. So, no worries. And, trust us. Potential clients will remember the card even if they don't remember your face.
Side Note: When you're ordering cards be sure to ask about the design, the paper and the finish. These things can add up with a la carte style service.
Step 2: The Paper
---
Now that you have a stunning design, where do you begin? Let's start with four very different types of paper: 14 pt, 16 pt, linen and extra thick. The paper you use for your cards either says thrifty or attention to detail. It's just that simple. And, because it's your business's first impression, we say "go all in".
This type of paper is affordable, but depending on your line of work, it may not be the best choice for you. The paper is fairly thin in comparison to most business cards. Though, we still find that many people still print their cards on this paper.
Business cards using 16 pt paper are considered to be today's standard. This paper weight is ideal for two sided designs. When you flip it over to the back, you won't have to worry about seeing the ink from the front.
Linen
Do you want to stand apart from the crowd? The sheer feel of this card screams elegance and sophistication . . . not to mention it leaves a great impression. This has a very natural appearance; not to bright or dark. So, it doesn't matter how many cards are in their wallet; you'll be remembered when they touch this.
If you run a creative or luxury business you may want to consider going thicker. Now, the majority of businesses don't need this. But, from personal experience these cards always strike up conversation. And, networking and marketing are what businesses are built on.
Step 3: The Finish
---
Now, it gets easier. Choose your finish.
This is an eye catcher. You can add polish to your company with this choice especially if your logo is bright & colorful. Oh, and your pictures will add that bit of POP! The sheen varies & you can dim down the reflectivity to suit your needs. The life of the card is greater & it's less prone to dust and dampness. Certainly this is a big plus.
Do you like to jot down quick notes? This might be the one for you. There's no coating, so it's easy to flip it over and write. Don't worry, the ink will adhere to the card. No need to be concerned about smudges & smears. And, it's a more modern and contemporary look.
Drop by our West Long Branch Shop or give us a call if you have any questions. We're happy to email you your proofs and deliver if you're not near us.
Looking for something unique? Try out these double ply wooden business cards or these business card magnets. Like all of our cards they also come in different thicknesses, too. Or, if you're a contractor, a metal business card may be more of your style. If these options ahve your creative wheels turning, then you may want to take a look at our accessories.
Happy designing!