The Top 3 Clothing Items Every Small Business Owner Should Have To Easily Get Noticed and Strike Up Conversation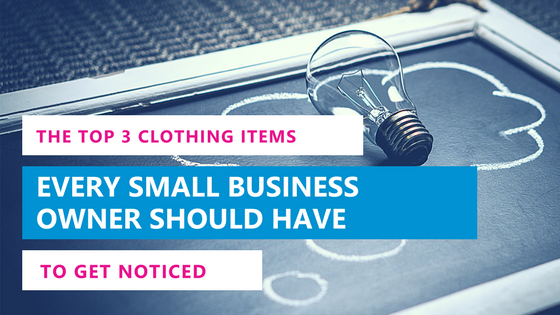 So you own a small business and you don't have a website. Or, it's just out of date — and face it, you aren't tech savvy. Your day is spent meeting deadlines, finishing projects and then there's running your business as a whole. Sounds familiar right? Let's not forget about the many sales meetings. Meanwhile, there's that nagging little voice inside of your head asking you where your next clients are coming from?
Your business can operate and advertise at the same time. Here are three easy ways to get noticed.
Custom Hats

Get your logo printed on a hat. Ball caps are practical and you can get them in any style. Baseball caps, trucker hats, beanies and visors are some of our favorites. Everyone will see it and let's face it; you and your employees will probably wear it outside of work. So, that's easy advertising right there.




Branded T-Shirts

On a warm summer day a T-shirt will get you noticed. Try personalizing your tee and printing your logo and something funny like "yes I'm a landscaper, no you can't have my autograph". A unique design and a splash color is certain to warrant a second look and strike up conversation.




Personalized Hoodies

I know what you're thinking." What about on a cold day? My staff isn't going to walk around in a T-shirt."

Well, hoodies have been around since the 1920's. Custom hoodies are even better. They are trendy and fashionable. And, if you want something a bit less casual you can always go with a jacket.


These three simple additions can make a difference in your business. Uniformity makes any company look established and professional. This is easy & quick. And, it costs less than you'd expect. Go to your local print shop. Let them assist you with your idea and create your design. Come back, pick up your order and wear it. If you have any questions, or if you need a designer or screen printer — give the NJ Ink Shop a call at (732) 759-8719. Or stop by. We're located in West Long Branch. We can even design your business cards to match your new look.
Now that we have your brain going. Tell us what other items you would print your branding on?