How To Use Yard Signs To Give Your Service Business Credibility and Customers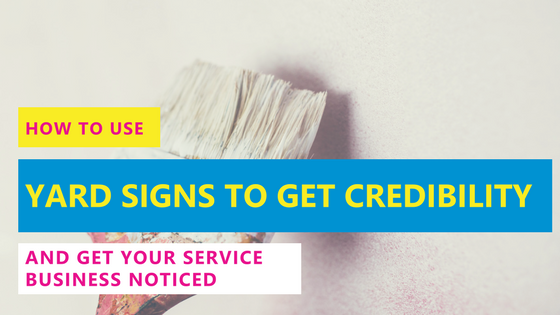 Driving around any neighborhood can reveal who's renovating their home or business. There seems to always be a strategically placed sign in the ground with the name of the company doing the work. Yes, we're talking advertisement. What's the big deal about a yard sign or a lawn sign? Well, we'll tell you.
Why Yard Signs Help Grow Your Service Business
Small businesses and large corporations alike have seemed to figure this one out. People choose businesses they can trust. And, businesses that their neighbors and friends vouch for. If you're doing work at a business or someone's house, putting a yard sign in the ground is an easy way to advertise and show that you are a trusted business. Say you're a roofer, a landscaper or any other outdoor service. You're likely wearing branded t shirts, hoodies and hats. (If you're not: check out our blog post about the top 3 clothing items to get your small business noticed.) But, when you've completed your work (or while you're doing it) a yard sign let's everyone know who's doing the work and how they can reach them. However, if you're inside the business or home doing HVAC work or painting, no one's going to know. Yard signs work great for this, too. It's all about awareness, trust and growing your network.
Who wants a discount? Everyone. And, you can benefit from it. Some businesses offer reduced pricing if they can leave their sign in a customers yard. How much? Well, that depends on the size of the job. Typically, this is left up from two weeks to two months. The key is it's free marketing & everyone likes FREE.
What Our Yard and Lawn Signs Are Made Of
Our signs are constructed with corrugated materials. Plastic or aluminum are typically used. They're about two feet wide & one and a half feet tall. That's just tall enough for visibility. Otherwise, what is the POINT, right? Anyway, the plastic signs are geared more for short term. They are good for interior or exterior uses. Try using one with metal or with a metal reinforcement for longevity. This one has the same uses and it's more resistant to adverse weather conditions.
Design Tips for Your Perfect Yard Sign
Now, think design. What color and style should you use? Naturally your business logo is a good place to start.
Bright or bold eye catching colors are helpful.

Remember, your font is a factor. You want it to be easy to read. Really, as long as it's legible, you can choose any style you like.

Our tip is to use a dark print with a light background or vice versa for good visibility. But, don't go to dark.

Make sure you maximize your space. But, text should still be in proportion to the size of the sign.
Note: If you're working with us we create all of the designs in the shop, so there's no worries about making a perfect design.
You can use yard signs in many untraditional ways. If you have an idea we didn't mention reach out and contact us at the shop.